Mobile Radio Direction Finder
We offer a mobile radio direction finder (RDF) covering frequencies from 100-1000 MHz. The mobile antenna uses roof-mounted summing units and four quarter wave vertical antennas.
Our mobile radio direction finder is available as a packaged unit with everything needed for easy setup and operation. It comes packaged in two pelican cases that can be carried by one person.
We also provide RDF components that can be used to create a custom solution. A simple mobile radio direction finder system consists of:
a narrow band FM receiver

However, adding a GPS lets the user geolocate targets by using multiple transmissions and multiple locations to save bearing readings. In addition, an optional yaw rate sensor provides better line-of-bearing accuracy if the vehicle makes frequent turns.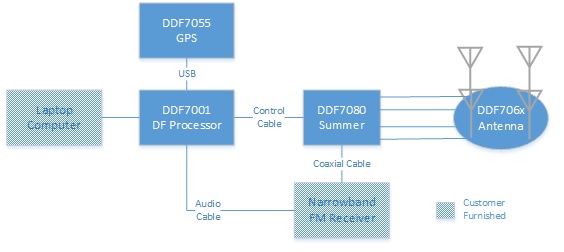 Additionally, our TargetTrack software works with the mobile system to display on a map the location of the vehicle and the measured bearing. In doing so, multiple measurements provide a target location. An Android based interface is also offered to facilitate simple homing operations.
Furthermore, mobile direction finders can be networked with other portable direction finders or fixed site systems using a mobile broadband connection. One can also use radio modems.
Specifications
DF Method

Synthetic-Doppler

with "Smooth Summing"
Frequency Range
100 – 1000 MHz
Accuracy
< 2.5 deg rms (100 – 1000 MHz)
Resolution
0.1 deg
Sampling Rate
2 samples per second
Sensitivity
-123 dBm (FM receiver dependent)
Averaging
Adjustable from 1 to 20 samples
RF pulse detection
100 ms minimum
Commutation frequency
Adjustable (250, 500, 1000, 2000 Hz)
Voltage Range
11 – 14 VDC
Power
6.5 W @ 12 VDC (processor and antenna)
Temperature Range
-40 °C to 75 °C
CE Compliant
Per EN 61000-6-2, EN 61000-6-4 AND EN 301 489-1